Goodbye Vietnam
     It's my last day in Vietnam before I begin the long journey home. There was no free breakfast at our hostel this time but that meant sleeping in and taking our time packing up. We woke up around 9:30, we packed and both took showers while we watched the end of "A Bug's Life." I felt weird packing up my bag for the last time. Part of me is so ready to go home and part of me wishes I was still in Egypt. We checked out at 11:30 and checked in for our flights out of the country. We left our bags at the hostel and went next door to the Mexican restaurant to grab breakfast/lunch before meeting our 1:00pm ride to the airport. Mary's flight to Australia left at 4pm while my overnight to Japan didn't leave until midnight. I had researched stuff to do near the airport that morning so that we would only have to pay for one car but I wouldn't be stuck sitting in the airport all day. I discovered there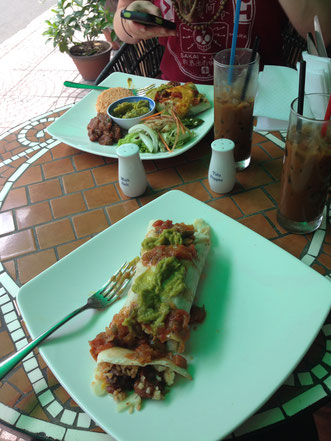 was a movie theater inside the mall that was right across the street from the airport. Online it said that they often showed American films so I was in luck.
      When we arrived at the airport Mary and I walked together until it was time for her to go through security and then we hugged goodbye. I wished I could be going to Australia with her but I had a job to get back to. It was a strange feelings being alone again. After some effort I finally found the baggage storage area and check in my big backpack. I paid 160,000 dong for them to hold my bag until 8:30pm. I then had to get out of the airport and across the street. This alone was a challenge. The airport was gated so I had to wander around the parking lot for a bit before I found a fence I could hop that put me out on the sidewalk of a busy street. Then I had to find the mall, which I fortunately had spotted on our car ride into the airport so I knew where to go. Though once I was in the mall finding the movie theater was another set of confusing steps.  I had to go through a maze of department store elevators and escalators to get to the 10th floor. The two English movies they were showing that day were the "Danish Girl" and "Alvin and the Chipmunks". I was hoping there would be more to choose from so that I could kill the most time possible but I would sooner watch the Danish Girl twice in a row than pay money to see Alvin and the Chipmunks.  For 1 ticket to "The Danish Girl" I paid 110,000 dong, but unfortunately it didn't start until 4:40.
     I had two hours to kill until then. I mostly sat around in the lobby of the theater catching up on my travel journal. I also spent a long time trying to find places to charge my phone. Unfortunately the only free outlet seemed to be located in the bathroom so I sat on the floor in there and read while it charged, getting more than a few questioning looks. Even at the movie theater I was continuously amazed by the hospitality of the Vietnamese people and their effort to accommodate tourists. When they opened the doors to the theater a women who worked there, who had seen me waiting in the lobby, personally came and got me and told me I could go in now, as this had only been announced over the loud speaker in Vietnamese. I'm so glad we had such a good experience here, that our fears about hostility were put to rest and our own experiences countered what we had read about Vietnam. It really was as bump free of a trip as traveling abroad can be.
       The movie lasted until 7 pm, which still didn't kill quite enough time but was significantly better than sitting at the airport for those 5 hours. The movie was good but sad. It seemed a bit like coming full circle for me, as my very first trip abroad, 2 years ago, had been to Denmark. Now, here I was in South East Asia watching a movie by myself, well traveled and confident. It was interesting to note the cultural differences of how the Vietnamese people interpreted the movie opposed to how I did. They often laughed at seemingly inappropriate times during the film. This somewhat changing the mood as I was watching it teary eyed. Anyway, I walked back over to the international terminal of the airport. It was just as difficult getting back in as it had been getting out. I limbo'ed under a car gate while a guard sitting in the booth eyed my confused but didn't stop me. I pick up my bag an hour earlier than expected so they gave me some money back, this meant I now had hundreds of VN Dong left. I figured I could do some duty free shopping while I waiting for my midnight flight but unfortunately my check in counter didn't open until 9, so again I had to wait. When it finally opened I got both my Tokyo and Denver boarding passes. It was weird seeing "Denver" on a boarding pass again. It had been 30 days since I had flown out of Colorado and it was going to be bittersweet coming back.
      I had 2 hours until my flight and dong to blow, no pun intended, so I shopped around the airport buying a cheap silk scarf, a painting and some very overpriced veggie fried rice for dinner. I had gotten an email from my tour group in Japan that they couldn't take just me because there is a two-person minimum and no one else had signed up for that day. I offered, per my mom's encouragement, to pay for two people so that I could go alone and not have to navigate Japan by myself. I had been counting on joining the tour so I hadn't researched or planned for Japan at all. I waited with baited, tired, and probably smelly breath, to hear back from them as I boarded my long, overnight flight to Japan.