A Pile of Burning Penises
       I barely got any sleep on the overnight flight and breakfast was gross, for lack of a better adjective. Luckily, once I got an Internet connection I discovered that Rainbow Tours would take me through Narita for 10,000 yen. Less than the double I had originally offered, but still about $85 US. I went through customs, relaxed and sleepy, still floating in the clouds of the sunrise. I was already impressed by the efficiency of the Japanese people. The customs and passport control line was the smallest and fastest moving I've seen. After getting my passport stamped I went to the ATM and got out, what ended up being, far too much money. I then met my guide by the "S2" exit. He was holding a sign with a rainbow on it and seemed friendly enough. He was a small, semi-retired, Japanese man but I think he judged me for paying double to have a guided tour and kept mentioning how easy it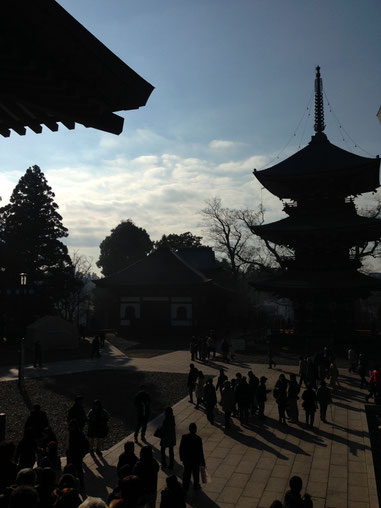 would have been to get around on my own. I hadn't looked into it enough to know but it really would have been simple to catch the bullet train out of the airport and into Tokyo or elsewhere. Though I wouldn't have gotten to see the several things around the city of Narita that I did.
        We first went to, what I believe was a Shinto shrine but may have been a Buddhist temple. It was nice walking around but it became very crowded as the morning wore on. Initially the 32 degree weather had been refreshing and felt like home after weeks in 95 degrees, but I quickly got cold. I clutched my numbing fingers as we walked to the 9am fire ceremony at the temple. One of the many things I would have missed without a guide. There where a series of bells and drums played by monks and this was followed by prayers. My guide warned me, "There will be a big drum at the end so don't have a heart attack." I was glad he warned me because I was one of the few people that didn't jump out of my kneeling position on the floor when they hit it. At the end they started a small smoking fire and people from the audience rushed up to hand over their purses, backpacks and even glasses to be wafted in the smoke, apparently for good luck. My guide told me, as he pointed out several other things around the temples, like wishing boards, hung for love and fertility, that "The Japanese are not very religious people but they are superstitious." I was there in January, which apparently because of New Years is the busiest time of year. The temple averages one million visitors in January and another one million during the other 11 months combined.
        After the temple I walked down the main street of shops admiring, very expensive, gifts, sweets and foods. In one window you could see eels that were still squirming as they were dissected for sushi. There was even a large shop dedicated specifically to selling chopsticks. They were ornate and extremely expensive. I met my guide back at the car with a hand-warming cup of tea and we drove to see the rice fields. Unfortunately they were brown and unimpressive like much of the landscape at this time of year. I'm sure Japan in the spring and summer are beautiful but I wouldn't recommend a mid-January visit. We then went to a national park that had a lot to offer, including a reconstructed samurai village. There was even a farmhouse with crops where volunteers could learn how to prune trees, benefiting the park as they, in turn, had their trees pruned for free. There were various arts, crafts and activities for school kids to try and learn. My guide explained that during the school week the park would be flooded with students on field trips. Apparently they had also filmed some movies there, as the samurai village was a perfect setting. We then drove past some burial hills where tombs from the 7th-8th century had been excavated. We stopped at a small, like one room, museum about the tombs.
      Our last stop was a penis shrine, literally a shrine full of wooden woodies. It was used for men and women wishing for fertility, or in my case just a good laugh. Even my guide thought it was hilarious. Apparently people would purchase a wooden "member", write their name, sometimes their address, on it and then place it in the shrine. The money from the purchase went back to the temples. The wooden wishes were then periodically collected and used as fuel to light the fire for the service I had seen earlier that day. The smoke from the burning wishes floating up to be granted. I just couldn't stop picturing a pile of burning penises.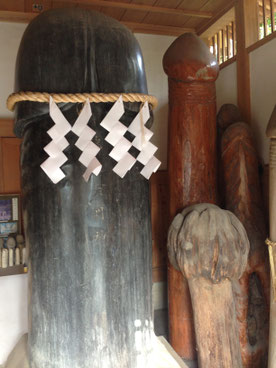 My tour lasted just about 3.5 hours, which was fine; I was too tired to go on any longer. After being dropped back at the airport I went quickly through the security line, which I had trouble finding because Japan is so efficient there was actually no line to look for. I then spent some money in the duty free shopping area on stuff I didn't need but was very Japanese. I wandered aimlessly for a while, looking for food in this behemoth airport. I probably did a 5k looking for sushi. Eventually I stopping to charge my phone and GoPro and hopefully orient myself with a map. I hadn't eaten for nearly 12 hours so after stumbling upon a restaurant I hastily ordered soup with fried tofu, even though I generally dislike soup. I tried to hurriedly eat it all #1 to finally nourish my body and #2 because I had again overpaid for mediocre airport food and I didn't want to think about that for longer than I had to. Though I did proudly eat the entire bowl of soup with only chopsticks. I had finally mastered them while traveling in Vietnam. When I finished eating I bought an ice cream sandwich out of a vending machine, which was actually super delicious.
      On the way to my gate I walked past the sushi place I had been looking for the whole time. I ordered an avocado roll to go, hesitant about the looming and possibly gross airplane food, following this mornings breakfast. Plus I was in Japan so eating sushi did not feel optional. Unfortunately my roll was literally just thin slices of avocado on top of rice wrapped in a thin strip of seaweed, a little underwhelming. $13 seemed steep for such a small ingredient list but Japan was an expensive country. I carried my roll with me while I went to exchange back the, far too much, money I had taken out that morning. I had gotten out $250 originally, I got $100 back at the exchange desk, so I spent $150 in one day in Japan. $85 of which went to my tour guide. Now I'm sitting at my gate, waiting a few more hours until we board, trying to register the fact that this is all over, or that it even happened at all.