Nearly Crashing, Cows & Coffee
       The plan today was to tackle the northern beaches. Luckily, because of the struggle the morning before we had all of the details worked out. I wanted to snorkel on Finger Island, which was apparently accessible through a sandbar bridge. As we headed north through the city, we stopped at a few places to try and rent snorkel gear but it seemed none was available. It was all a scheme to get you to book snorkel tours with companies and none of them were willing to rent just the equipment. I was really disappointed because of how much fun I had had snorkeling in Phuket but it just didn't seem doable here. So we headed up without gear, hoping we could find some at a resort or something. The first beach we went to was the farthest away and supposed to be very secluded. "Supposed to be", being key words here. Unfortunately, construction and development are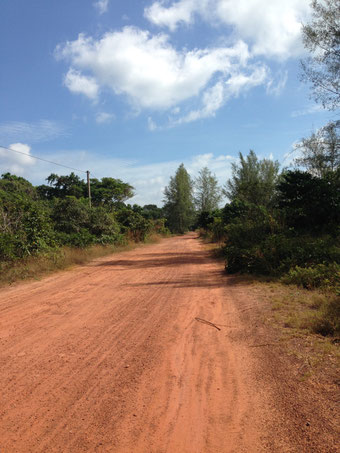 booming on the island right now and it seemed the entire length of the beach was being worked on. We braved the deep sand that covered the road on our motorbikes, which were in no way designed to drive in these conditions. We both almost fell more than a few times as we went almost a mile hoping to reach a main road or a usable section of beach. Eventually we instead came to a gate because of the construction, and it was being guarded by a man who made us turn around. Navigating all the scary sand had been for nothing and we slipped and spun the whole way back to the road, coming across some friendly locals as we went.
      Disappointed and irritated we debated where to go next. I could feel my sunburn getting worse, as the sun reflecting off of the mirrors on my motorbike was shooting onto my arms. I lathered up with sunscreen as we made our way back south to try and find another one of the beaches on our list. We turned down a paved road that quickly became another dirt construction road and I doubted that we should continue. I feared that we would brave it all again just to be turned around a second time, but Mary insisted we give it a try so I went along. In the end, she was so right, and I did not let my pride keep me from telling her so. If she hadn't insisted we wouldn't have made it to one of the greatest beaches I have ever seen. After some very rocky, steep, hills and lots of gravel we found the ocean. It was almost completely deserted; along a mile stretch there were only about six people. We parked our bikes on the sand and hurried into the water to swim for more than an hour. It was slightly wavier here but still clear and we floated and frolicked and had a good time before determining we should move on if we wanted to make it to two more beaches before the end of the day. 
        The next beach was close but partially under construction and partially monopolized by the Chez Carole Resort. We decided to check the prices for lunch at the resort in order to kill two birds with one stone. Get fed and explore the beach. The prices were actually much more reasonable than we had anticipated so we grabbed a table by the beach and watched people swim and jump on a water trampoline, trying hopelessly to make it atop a floating slide. I ate some mildly satisfying veggies with a side of rice and Mary got chicken nuggets. After lunch we ventured over to a green shaded area of the resort that had hammocks strung tree to tree. It was clearly marked "For Residents Only" but there as no one else there so we took our chances. Mary napped for about an hour while I read about the trials of climbing Everest and day dreamed about my future climbing adventures. It was a very relaxing afternoon.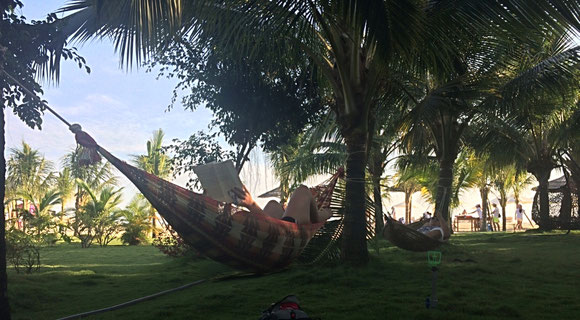 At about 4:30 we headed for our last beach, again parking at a resort where we ordered drinks. We watched the sun set and some very adventurous cows make their way across the beach while tourists took pictures. When the sun was down we headed home to change before going out again for dinner. This time we went to a place called "Heaven" which Mary had picked. The staff was very nice and the food was really good. We both got varieties of fried rice. I also got an iced coffee with condensed milk and it did not disappoint. The coffee in Vietnam is something to write home about (or journal about) and I don't even like coffee. By the time we finished dinner it was past nine, which meant the bonfire at Rory's would be going. We headed over, just a block away, and sat on the beach and watched the fire and talked. Again, time flew by and by 11 we decided it was time to head home. It had been another full and very exciting day.