Sao Beach
      We woke up a little before 9 to make our way down to the free breakfast, which ended at 9:30. It was one of the more disappointing breakfasts, it didn't even include coffee, Mary had to pay extra for hers. I got bread with peanut butter and jam, so basically PB&J for breakfast. We then went back up to the room to map out the beaches we planned to visit that day. We were to spend one day in the north and one day in the south, as our hostel was located in the middle of the island in the largest city, which was still a very, very, small city. Mary had narrowed down 4 beaches in the north she wanted to visit. Though, as the island is relatively undeveloped, many of the streets don't yet have names. The directions online were vague and making it north after renting motorbikes seemed more and more unlikely as the morning hours quickly dwindled away. To make matters worse Mary's phone hadn't charged that night so we had to wait for it before leaving. I told Mary we didn't have enough time to do everything she wanted today and she accused me of being negative. I told her I was just being realistic. We both got tense and uncomfortable and avoided eye contact for a few minutes. Finally, Mary suggested we just head south today instead, as there was only one beach in the south we planned to see. It was a simple solution that neither of us, in our frazzled state, had thought of before. 
      We rented motorbikes from the shop conveniently located right next door to our hostel. The owner was hesitant about renting to us. I had read online that on the island of Phu Quoc tourists were no longer allowed to rent motorbikes since one tourist, a few years ago, had caused an accident that killed a local man. She questioned us repeatedly, "Are you sure you know how to drive them?" I reassured her that, "Yes, we've done it before." Though, I left out the fact that I had only done it once before and that was only a few days ago. They were 100,000 dong per day (just over $4). The owner seemed to be put at ease as she watched us zip off the curb and into traffic with our bikes, as if we had been doing it our whole lives. Secretly, I was crossing my fingers hoping that I wouldn't accidentally murder someone and end up in a Vietnamese prison. My mind reflecting back to the torture exhibit at the War Remnants Museum (*Vietnam Day 24).
      We had to stop and get gas before beginning our journey south. The roads were well paved and not busy at all, which was a huge relief since we were driving down, what was essentially, a highway. It was about 15 miles to the beach, but our motorbikes maxed out at about 40 miles per hour. We also had to stop at a toll entrance and pay 10,000 dong to get onto the highway, so it took about 45 minutes to get there.  A well-marked sign off of the highway directed us down a bumpy, dirt road that seemed to go on forever. We were worried we might even be going the wrong way but eventually we came upon signs for a few resorts. We chose one at random that looked promising and headed up their driveway.
      We parked our bikes at a place called The Beach House; it appeared to be a small hotel with a restaurant facing the ocean. We stopped to have drinks there, hoping our bikes wouldn't be moved or the Vietnamese equivalent to towed, if we bought something before walking down the soft white sand beaches. While the beach appeared picturesque from a distance, we were disappointed to find that there was a large amount of trash, both on the shore and in the ocean. Floating plastic bags and bottle rings bobbed around in the waves. It was a windy day so the waves were high and strong. We tried to find a less dirty area and played around in the ocean, riding the waves into shore and saying, "WWEEEE" as they carried us. My ears were still giving me problems in the water though (**Thailand Day 12) and it was irritating. We walked the length of the beach, stopping at every bar and restaurant along the way to compare the prices and find a place where we could eat lunch. The very last place, "Paradiso" which we had been looking for, had good prices and large portions so we stopped there and ate. I got a vegetable panini and Mary and I split spring rolls.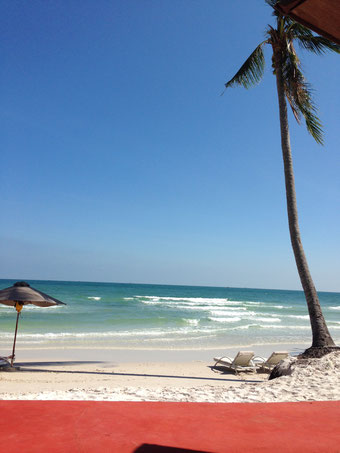 There was a swing hanging from a tree just north of our restaurant so when we had finished eating we walked over to it to have some fun, and at the very least take some cute pictures. As we got closer though we saw a sign that said 5,000 dong per ride. In U.S. dollars that really isn't anything, like 25 cents, but it didn't seem worth it so we walked off to enjoy the ocean more. After going for another dip in the water and drying off on some beach chairs, we got back on our bikes, which were fortunately where we had left them, and headed back north. We planned on having dinner and watching the sunset closer to home so we drove back up the highway as the sun went down. We stopped at a place called Rory's, which was just on the outskirts of our town. It overlooked the water and had lawn chairs set up on the beach while the bar was designed to look like a ship. An Australian man, who walked around cheerily talking to the patrons, owned Rory's. Unfortunately, it was definitely a tourist spot and that meant it was pretty expensive. Mary and I each got a drink and then split a veggie pizza.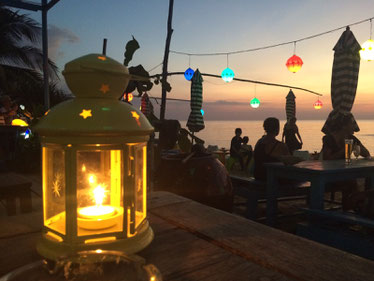 We watched the sun set and the lanterns strung up above us begin to glow. They set up wood in a pit to make a bonfire, which we wanted to stay and watch them light, but when we inquired they told us they wouldn't be lighting it until 9 pm. They told us they had a bonfire every night though, so we decided to come back the next night instead. We went home to change out of the damp swimsuits that we had been wearing all day. This is when I realized how much sun I had gotten. When I took off my shirt I looked in the mirror and saw that my shirt lines made a perfect collar around my neck and arms. I had put on sunscreen, though evidently not enough. It was comical but irritating, I knew how much as sunburn was going to hurt over the next few days. Once we had stopped laughing at my bright, red collar we collected our rain jackets, as rain had been forecast.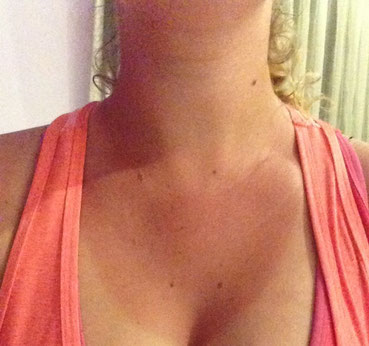 By the time we made it from our room downstairs to the lobby, the rain had already hit, hard! We waited it out for a little bit as it slowed. Then, covered our backpacks with our jackets and walked down the muddy road to a bar. We had passed by it the night before and it had a sign that advertised live music so we thought it would be fun. When we got there though it didn't look very lively from the outside. We had to walk downstairs to find the live band. There were two singers, who were both good and had a great set list, and a large crowd of tourists. I ordered a kahlua coffee shake and we listened to the music as it rained on and off for a while longer. We were out until nearly 11 before we walked home. It had been another great day in Phu Quoc. We watched some movies and googled the running list of questions we had been keeping, since we didn't have Internet service outside of the hostel. We looked up everything from why mosquitoes bite some people more than others, to what gay marriage laws are internationally, and who our astrological signs told us to partner with, before finally falling asleep. 
The Movie