Phu Quoc Fish Queen
       The alarm went off at 7:30. I took a shower and we finished packing. We got breakfast, scrambled eggs and bread by 8:30 and our car picked us up to go to the airport at 9. Our car trip should have taken about 20 minutes but our driver stopped for gas and seemed to take his time. We had already paid at the hotel so it didn't matter, price wise, but it ended up being a 45-minute ride and we still had to wait in line at the airport to get our boarding passes. They made us weigh our bags at the check in counter, they were allowed to weigh up to 7kg to carry on but when we put them on the scale mine was 8.6kg and Mary's was 16kg, almost 40lbs. We had to pay an excessive $14 to check our bags because we hadn't paid in advance. It was the first time I'd had to check a bag the entire trip, eleven flights and my bag had always come with me. It was daunting watching it float away on the conveyer belt.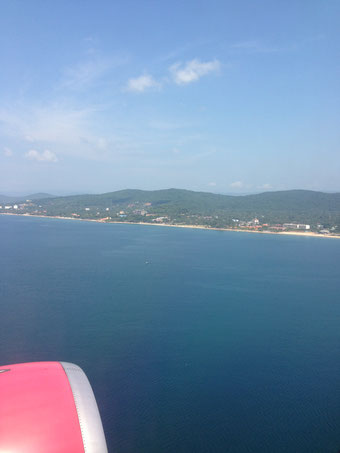 With the long car ride and extra wait time to check our bags we were worried we would miss our flight but ended up being fine with time to spare when our flight was delayed yet again. It was a short flight and our bags arrived, fortunately without incident. We then got a cab to our hostel. Canary Hostel, apparently it's new and no one knew where it was. Our driver who spoke zero English got us there eventually but not without some effort on our end. Checking in they made us pay cash in advance for everything, that and the receptionist herself were off-putting. I was uneasy about staying there especially after numerous power outages that morning left our room in the dark. But it was still early so we tried to stay positive as we headed out to grab lunch and see the ocean.
      We snuck over to a resort that was just a short walk down the, very under construction, road. The restaurant was right on the ocean and we got delicious, high quality, expensive, but worth it, food. I also got a long island ice tea and some of the yummiest vegetable tempura I've ever had. Either it was exceptional or I was just super hungry. Afterwards, we walked down the beach until we found an empty piece of ocean to float around in. There weren't any waves so we just lay there enjoying the emptiness. That is until we discovered the Yellowtail Scad (I found their name after thorough research), which were following us around under the water. There were dozens of them, they followed me for some time, inching closer and closer trying to get nibbles of my toes. Mary dubbed me "The Fish Queen" because everywhere I went it was like they were worshiping me. Google them, look at their creepy eyes, then imagine a school of them following you relentlessly while you're just trying to relax in the oceans off of a Vietnamese island.
       When we got out of the water we were covered in a thin layer of green algae gunk. We wiped off and continued walking down the beach. There were local kids playing soccer and fish swimming all along the shore that you could see in the clear water. We found the night market, which was mostly just a fish market filled with a variety of critters, presumably from that days catch. Elephant snails, sea snakes, baby sharks, lobsters, crabs and a variety of other sea life. At the end of the market was a shoreside restaurant serving seafood and beer. We had some difficulty ordering Mary a beer and after observing the crowd around us I determined this was more of a locals only place and they didn't seem entirely thrilled to be serving us, or any of the other tourist types that had wondered in. We watched the sunset and the locals bathing around in the water before leaving. We found a different place to have dinner, the menu included things like
"Simmered baby shark in clay pot", but I was able to order some Vietnamese version of spaghetti. On our walk back to the hostel we came across a bar called, "The Rabbit Hole." I, being easily pulled in by cute, gimmicky, stuff suggested we go in. It was nearly empty inside but the staff was nice and they had pool and other games. We played Jenga, which was fun and Connect Four. Of the 94 games we played Mary won 94 of them. I don't know what my deal is but apparently Connect Four is not my game. We also played some darts and had another drink before heading home. It was another full day in Vietnam and after exploring the island we had no doubt that coming here was the right choice.