Roommates
         Mary's alarm went off at 7am so that she would be awake for the delivery of her silk shirts, but by 8am they hadn't showed. The hostel owner called the shop for her but they didn't answer so he offered to drive her there to pick them up. I was going to go with them but transport was via motorbike, not car, so I stayed and took a shower while they went. Despite having a coughing fit the night before and being worried my cold had turned into an upper respiratory infection, I was feeling a little better. I was trying to stay optimistic that I'd be healthy for some leg of this trip besides Egypt. It had been raining all morning, which I didn't mind since it meant it wasn't as hot and we were going to be on a train all day day anyway. When they got back I had just finishing packing, souvenirs were now taking up a lot of what used to be room in my bag.  
       Unfortunately, it looked like the room in Mary's bag that was meant to house her silk shirts might remain empty; she had come back empty handed. Though, apparently our hostel owner was able to get a hold of someone at the shop who said they would deliver the shirts by 9 am. We were due to leave Hoi An at 9:40, so we held out hope that they would make it in time, and not put a damper on our, Mary's in particular, view of the Vietnam leg.
     We sat down for breakfast around 8:15. I have grown fond of the coffee and barley tea here, Mary got her, same as always, omelet and I got the boiled eggs and bread I'd had on the first morning. It was a good meal and just before 9 a man rolled up on his motorbike with Mary's shirts. Finally! We were super relieved and he was very apologetic, so it all worked out. We gathered the rest of our stuff and checked out. It was $86 each for; 2 nights in the room, breakfast on the first day, coffee, transportation to and from the train station and our train tickets for that day. Overall, it was really affordable. I'm averaging only a couple hundred dollars per country. We arrived at the train station an hour early, which was fine because it gave Mary time to buy beer and us both time to use the bathroom, hopefully to spare us squatting in the train toilet. Our train departed at 11:49 and we were excited to find that we were the only ones in our cabin. I didn't mind other people, Vietnamese or otherwise,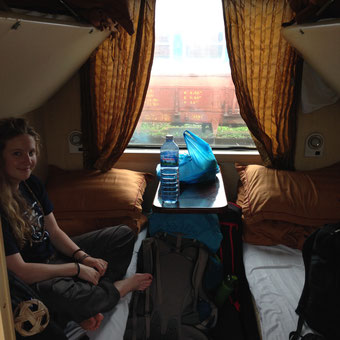 but it was nice to be able to spread out and not have to whisper and watch our movies on Mary's laptop in peace. The cabin itself seemed slightly more updated than our last train, but with mostly everything identical besides the fact that the upper bunks folded up, allowing us to sit up straight on the bottom bunk, as there was no one above us yet. A luxury we didn't get to enjoy before. It continued to rain outside as we watched "Good Morning Vietnam" we were able to buy it, bootlegged, the night before. Buying it was worth it, as movies would make our 14-hour train ride go by faster. Mary had never seen "Good Morning Vietnam" so it seemed fitting and it was interesting comparing the scenery, as we rolled south through the rice fields of Vietnam, to those in the movie. Even if it reminded us that Robin Williams was dead, and the Vietnam War had not been the highlight of American History.
            Stop after stop our cabin remained empty, as did most of our car. I joked with Mary that we had gotten on the wrong train or that everyone else was dead and we were the only surviving passengers, or other horror story, alone in a foreign country, scenarios. But it gave us the opportunity to sit up straight and talk and watch movies. We finished off  "Frozen" and "The Imitation Game" and were just Starting "Big Hero 6" when we realized we did, in fact, have cabin mates. Mice, more specifically. They were running across the floor and over my leg and magically disappearing under our bunks. It definitely made me uncomfortable and irritated as there are far fewer mice on planes and I was on a 14 hour train ride with either several of them, or one, very agile one. It took me a while to get used to the thought of comfortably falling asleep there, but oddly, the eventual appearance of human roommates made me more comfortable. Hopefully more people meant less mice. We finished "Big Hero Six" before going to bed. We had to be up at 4 am for our stop and to meet our ride to the hostel. Our roommates ended up being two young mom's with their babies. They didn't speak any English but they were friendly enough and their babies were good besides, very little, middle of the night, crying. An older couple also joined later that night and silently, took the top 2 bunks.
The Movie