Five Star Treatment
     We got to sleep in until 9 this morning before we had to get ready to go. Breakfast was yogurt and doughnuts, then we packed up and checked out. We got to take a nice car to a nice boat, where we sat on the upper deck on our way back to Phuket. We got an even nicer car for the ride from the dock to the airport. We had to wait a while for our flight to Bangkok, which was my 8th flight in 13 days. Amy had booked and paid for it, since the plans had changed at the last minute (like the day before I left for Egypt) and I had to pay $300 extra to reroute my flight from Siem Reap to Phuket.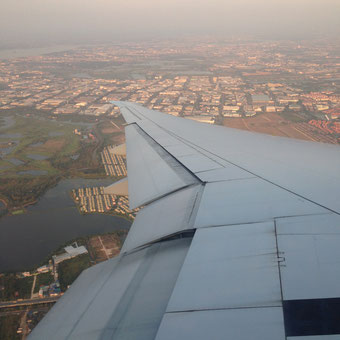 When our flight landed in Bangkok there was an enormous line for taxis out of the airport. I guess this is Dec. 30th in Bangkok, or maybe this is just Bangkok on any day of the year. After standing in line for 30 minutes Michael decided to abandon ship (get out of line) to see if we could find a taxi outside of the airport. We lugged all of our bags down the sidewalk that led to the airport where there was a bus stop and some taxi's picking people up.
 We eventually secured two back-to-back cabs Mary, Adam and I got into one and Amy, Michael and Lee in the other. Our driver was unsure about the direction and spoke very little English. But I refuse to be the ignorant, America, tourist who expects everyone to accommodate them and speak English without even attempting to understand or respect other languages or cultures. I patiently explained our directions to the driver and showed him on my phone, which had a map of where our hotel was located. The city was broken up into districts by number and once he knew the correct number to go to we were pretty much set. We got to the hotel just fine but then there was a small conflict with the driver over price, but Adam got it taken care of.  
     We got to go up to the "Platinum Lounge" because Amy is a member. We enjoyed wine, cheese, and chocolate. Even though we looked like a bunch of homeless vagabonds that had stumbled into the Ritz. Everything was still decorated from Christmas and our rooms were really nice! I knew that the following legs of the trip would not compare with this level of comfort so I was embracing the five star treatment while I could.
The Movie