The A.D.A Would Not Approve
            Our hotel in Luxor is lovely, a solid 4 stars in America, I'm guessing. I'm not sure though since the only stars rating I subscribe to is yelp. When we got back to our room last night we went immediately to sleep. It was only about about 9:00pm but we needed to get ready for our 4:15am wake up all today. I set an alarm for 4:20 just in case and it was good thing I did because the phone in the room didn't work so we got no wake-up call. My phone, which I had left on vibrate plugged into the charger across the room was just enough to rouse me. A few minutes later a knock on the door came as our wake up call instead. We got all of our stuff together and headed down stairs for our hot air balloon ride. We met with the other two couples and the single man who were also up early to go hot air ballooning with us.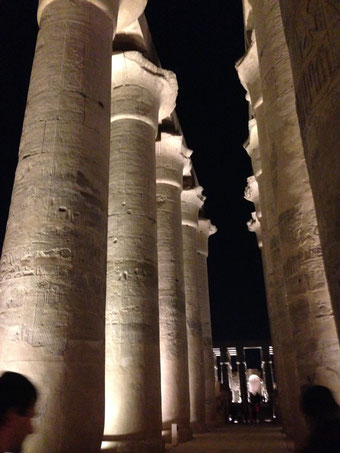 We took a short car trip to the shore were we boarded a small boat to travel from the east bank, where we were staying, to the west bank of the Nile where the balloons are permitted to take off from. They served us tea on the boat and we took biscuits and packed them for later. Our breakfast box had been identical to the one we received for the Abu Simbel drive. The trip across the Nile was short but during it we signed wavers agreeing to hold on during take off and landing, and not panic if the basket tips over when we land, which evidently happens frequently enough for them to put it in the waver. When we reached the shore we were escorted to another van that drove us about 10 minutes to the take off sight. We could see all of the vans unloading the large baskets, which could hold up to 20 people each. Waleed had told us that our company was insured and had certified pilots so we would only take off if we got the O.K. from the weather center at the airport. As soon as we stepped out of the van it was super windy. Our guide told us that they were waiting for the winds to die down before they blew up the balloons so we all got back in the van and sat patently for an hour while other companies attempted to inflate their balloons. Groups of men jumped on the baskets to hold them down as the wind pulled at them, dragging them across the lot. It was evident at this point that we weren't going to take off, nor did we really want to in these conditions. As the sun come up some of the balloons were able to fill and we watched crowds of people funnel into the baskets as they bobbed on the ground.
            We were scheduled to meet back up with Waleed and the rest of the family at 7:30 to see the Valley of the Kings so as we drove off we watched the first of about 5 balloons take off. No one was really disappointed, we had only missed an hour of sleep and we had been rebooked to try again tomorrow. The prospect of watching the sunrise tomorrow, on Christmas morning, from a hot air balloon kept us positive. Once we met the rest of the group we headed for Valley of the Kings. It was totally empty when we got there because it was still so early. I thought it might just be because tourism is sparse in Egypt right now, but we later discovered that Waleed just knows how to get to places at the right time and this was his good call.
We went into 4 tombs total. Three of them had recently been opened, just in the last month to try and attract tourists. Before this they had been closed to the public for like 15 years. The first tomb was the hardest and longest climb. The valley itself was not at all what I had pictures and the first tomb felt more like an obstacle course than a museum exhibit. We climbed up a dinky ladder probably 150 feet then went down, down, down. Nate and I decided this trip can basically be described as "Lots of walking on steep ramps." Ramps to boats, ramps to planes, tombs, pyramids, RAMPS! The A.D.A. would not approve.
            Inside the tomb the beautiful painting and decoration was nearly all original and not tarnished like the other places we had seen. It was 3 separate chambers, each going further down with the last containing the sarcophagus. It also got hotter the farther down we went and after all the walking we were definitely sweaty. It was like walking into a sauna and it wasn't even that hot outside yet, maybe 75. The hike back out was definitely exercise and my legs were feeling it. Every layer we came up the fresh air felt cool and amazing. It's hard when you're getting sweaty around other people and you have to decide if you want to wipe your face and make it obvious that you're sweating or just walk around with sweat on your face. Egypt travel problems.
We did this same routine with two more tombs. One with a similar layout, although not as deep, and one that was rather shallow but incredibly large inside with columns and a sarcophagus the size of King Tut's entire tomb. In the Valley of the Kings we were not allowed any photography at all. It had left my GoPro on the bus and kept my phone in my backpack. After Abu Simbel I was not going to take any chances. Going down into one of the tombs Nate took out his phone briefly to check the time. A guard almost immediately stopped him and demanded to check for pictures. Waleed warned us this would happen. They charge 500L.E. per photo so someone who had taken 5 photos would be subject to a 25,000 L.E. fine. Nate tried to reassure him by showing him his photos, and once the guard was appeased his demeanor immediately changed and he tried to direct us around the tomb. They do this, practically forcing you to follow them and then ask for money or "little present." We declined, finished touring the tomb on our own and moved on to see King Tut's. Apparently just a few weeks ago a Japanese team came to investigate around King Tut's tomb because it is believed that there is another, undiscovered, tomb directly next to Tut that will probably be excavated in 2016.
            Tut's tomb was about as big as I had expected, about 20'x20'. To the left his mummy was encased and to the right was his sarcophagus. The walls were complete with painting of baboons, which show good fortune. We tried to take it all in but it was pretty small, definitely worth it though. Especially considering the additional ticket usually costs 200 L.E. but was reduced to 100 L.E. and then we only paid 50 L.E. with our student cards (plus the 5 L.E. tip we slid across to the ticket man as a small bribe for accepting our student cards, which are apparently not regulation.) It's amazing that I can say I was there, that I saw the mummy of Tutankhamun. The theory is that Tut is buried in part of someone else's tomb, hence going undiscovered. He was 9 when he took power and 19 when he died. The mummy had to be buried within 70 days of death and Tut likely hadn't started building his own tomb yet or didn't have enough time to finish it so he is buried in a walled off section of the possibly soon to be discovered tomb. However it happened, the reason Tut is the so famous is because his tomb was discovered completely intact (the only one ever found in that condition). And I got to see it!
*The other tombs we visited in Valley of the Kings were Thutmose III, Ramesses III, and Merneptah. The undiscovered tomb is believed to belong to Nefertiti. Though, as of 12/24/16 work to uncover it has not begun because it would require destroying some of the wall paintings and priceless history in Tut's tomb to access the area behind it. People working on the project want to be absolutely sure they know what they will find before they risk destroying irreplaceable artifacts to access what could turn out to be an empty room.
            After Valley of the Kings we headed to the temple of Hatshepsut, or hot-cheese-soup as our group started calling it. On the way over an argument erupted between some of the people on our bus. They had been feuding for days and finally reached their boiling point. It escalated so quickly that eventually Waleed had to intervene and say, "If you don't stop I'm going to get off the bus." Everyone was pretty worked up about it. All in all, we got really lucky with the travel companions we ended up with, but it only takes one bad egg to spoil the whole bunch. Once the argument settled down Waleed told us that he had received a call from the security forces and they were tightening up security because of the holidays and the possible impending revolution. Apparently January 25th has traditionally been their revolution day and some people believe there is a third revolution in the works. Although, all of the guides we spoke to about it were doubtful, saying that they would not be participating and that the government now was good, not perfect, but not worth rioting over.
            This was the first news we had received in Egypt that made me a little uneasy. Of course, just in time for our arrival at Hatshepsut's temple where it was jam packed with tourist's, school kids, and others. Most of them seemed more interested in taking photos of us than the site itself. We walked quickly through, there wasn't too much to see, then made our way to Waleed at the café, where I tried my third and final variety of ice cream in Egypt. Although, I did also have some caramel gelato at the Italian restaurant. On our way back to the hotel we made two stops. The first was at a local shop where craftsman carved alabaster and limestone into vases, and figurines. They were very nice and gave us a demonstration of how they do their work. We spent a long time looking around. I picked out an alabaster camel that I had fallen in love with, because what's more Egyptian than an alabaster camel? I also got two small scarabs, one for me and one for Natalie.
     Our second stop was Waleed's favorite site, Colossi of Memnon. He called the statue of the women, who I think was King Tut's grandmother, his Egyptian girlfriend. The site had areas that were just being uncovered because earthquakes had destroyed most if it hundreds of years before and then sugar cane farmland had been planted on top of it. When the government discovers artifacts under someone's property they give them a fair price for the land and then move them into newly built housing communities. After taking photos at the site we headed back to the hotel. We had a few hours of down time before we went to Luxor temple and dinner that night. I used the time to get my laundry together and drop it off to be cleaned so that I could start the other legs of my journey with clean clothes. Nate and I ate at the Italian restaurant again, this time getting pizza.
            Luxor temple was amazing at night and not really that crowded. There were a few startling fireworks that went off while we were there but other than that it was pretty relaxing. Waleed told us more history of the gods, including a story about a one armed, one legged, man that impregnated a village of women while their husbands were off fighting in a war. The man said that he had caught a fish that had consumed the "member" of one of the gods, thus leaving him with fertility powers. Instead of killing him, the returned soldiers worshiped him and this story is depicted on the walls of Luxor temple. The image of the man and his "golden scepter" are a traditional place of pilgrimage for people seeking fertility help. The wall carvings are stained black with the oils from thousands of hands rubbing the mans penis to try and gain his fertility strength. Waleed invited us all to touch the monument. I was the only one in our entire group that was willing to risk it. Although this may mean I become pregnant with octuplets in the future, it seemed well worth it at the time.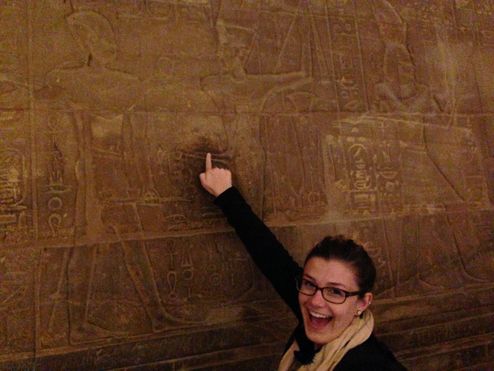 We then walked the first half of the sphinx corridor which, when refinished will cover nearly 4 kilometers. Near the end of the walkway a not-so-friendly dog barked angrily and circled us, as if he had claimed the territory for himself. We avoided getting bitten but watched our step on the way back. Following Luxor temple we went to a buffet dinner where a jeweler was waiting for us. The dinner itself was subpar and maybe the least enjoyable meal of the trip, but the jeweler was great! I had had my eye on a gold bracelet that I had seen in a pamphlet and I intended on having one made. The center cartouche would have my name written in hieroglyphs. The bracelet in silver was about $65 U.S.D. or 450 L.E. I asked about the price in 18k Egyptian gold and it was something more along the lines of $150-200, so I opted for silver. After dinner we headed back to the hotel and tried to go right to sleep. We were about to have another early morning trying to catch the hot-air balloon.